The best private island resorts, scattered among the most sought-after tropical regions of the world, are frequently the epitome of paradise. These islands reserve their experiences for a select few by maintaining a minimal accommodation inventory and fairly high pricing.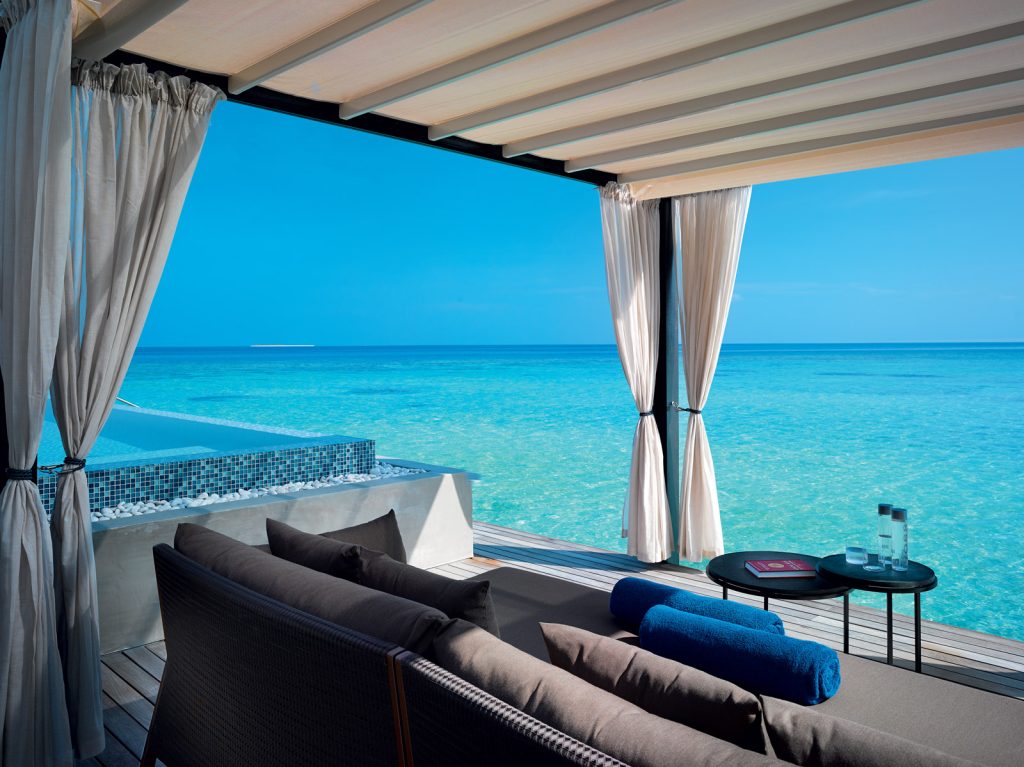 Here are secluded island getaways, from French Polynesia to Panama, where privacy, solitude, natural beauty, and luxury are abundant. The world's top private island resorts are listed below.
1

The Brando, French Polynesia

At his erstwhile private refuge in French Polynesia, where he used to go to when he wanted to get away from it all, actor Marlon Brando's legacy lives on. The beach is only a few feet away from 35 chic, palm-thatched villas where you can unwind. Each one boasts a magnificent combination of interior and outdoor space. You may go on island bike rides, receive treatments in the stickwork cocoons of the Varua te Ora Polynesian Spa, dine on French- and Polynesian-inspired cuisine prepared by executive chef Pierre Lecorne, and go on wildlife tours led by on-site researchers. Save some time to visit the Brando family's other Tetiaroa Atoll islands, where unspoiled shorelines, intact reefs, and thriving seabird colonies still exude the same allure as they did when Brando first visited the area in 1960.
2

Islas Secas, Panama

Guests at this private 14-island archipelago in Panama's Gulf of Chiriqu have exclusive access to an entire island chain that is covered in tropical flora and surrounded by white- and gold-sand beaches. They can select between four casitas or three tented suites. Thirteen islands are still in their pristine, unaltered natural state, which means that one island has every opulent amenity a private archipelago could possibly offer. There is a breathtaking beachside restaurant with an open-air setting, a swoon-worthy jungle spa, an outdoor movie theater, a stargazing lounge, a hummingbird garden, and a watersports facility with the newest and coolest water gadgets, such flyboards and hydrofoils. The archipelago is your oyster for activities like beach hopping, sports fishing, hiking, birdwatching, exploring ancient ruins, and extreme motorized water sports, and only 24 visitors are permitted on the island at time.
3

Mnemba Island, Tanzania

The 10 villas of this little island resort off the northern coast of Zanzibar are surrounded by the beautiful white sands and breathtakingly blue waters of the Indian Ocean. The sights and sounds of the beach are constantly present because of the building's remarkable open-air design, which has few walls and glassless windows. (Take note that while most people will find this to be a selling point, those who require air conditioning or are uncomfortable with nosy coconut crabs sneaking into the room should go elsewhere.) Enjoy dinners of delicious seafood, relax and watch the sunset from a traditional dhow boat, and take part in daily snorkeling excursions for a chance to swim with the wild dolphins who call this lovely place home. A tranquil island stay is an easy (and well-deserved) addition to an action-packed African safari as part of the renowned portfolio of conservation-led enterprise and safari outfitter, andBeyond.
4

Six Senses Laamu, The Maldives

The only resort in the Laamu Atoll of the southern Maldives is built on sustainability, without sacrificing elegance. Olhuveli Island branches off into triple-tiered overwater homes that are built with an eco-conscious and support island populations by using local materials, maximizing the area's natural splendor. Take a guided snorkeling tour with one of the marine biologists who are constantly working to restore and safeguard the coral surrounding the resort's home reef. Enjoy meals made with ingredients from the island's organic gardens and day-caught seafood from neighborhood fisherman. Finally, indulge in one too many spa treatments at the Six Senses Spa, which is housed in enormous stick-built nests that overlook the ocean.
5

Anantara Bazaruto Island Resort, Mozambique

You may easily disconnect on the remote islands off of southern Mozambique. This statement couldn't be more accurate than at the Anantara Bazaruto Island Resort, a tropical haven with a palm-lined beach, jewel-toned oceans, towering inland sand dunes, and unspoiled coral reefs. The island, which is larger than all of Aruba at 22 by 4 miles, is scattered with forty-four luxurious villas and yet has a hamlet and a second property that are all several miles distant. While there, try your hand at dune boarding. Later, go to your villa for a breathtaking sunset of purples, pinks, and reds while traditional dhow boats fade into the distance. During the day, stroll along the beach (you won't likely see another person for hours). Or, from July to September, go swimming with the dolphins, which are abundant in this protected area of the Indian Ocean. Eat fresh seafood from the area while strolling along the beach—giant multi-pound crayfish are typical in this area—or "Dine by Design," where you may have dinner on a sandbar with a personal waiter waiting for you.
6

Naladhu private Island Maldives Resort

The Maldives are famous for its overwater bungalows, but the country also has a ton of stunning land-based accommodations. Taking Naladhu Private Island in the Maldives as an example, it consistently receives high ratings globally and reopened in November 2021 with a completely new appearance thanks to New York-based designer Yuji Yamazaki. There are a total of 20 Houses on the exclusive island, each with at least 3,229 square feet of living area, a private pool, several with direct beach access, and some with their own private beach cabana. With a blend of modern, colonial, and Southeast Asian inspirations, the refurbishment gives the Houses a fresh new look throughout. The main restaurant, bar, spa, and wine cellar have also been completely redesigned. All experiences at Naladhu are customized, in keeping with the hotel's pre-renovation (and pre-COVID) ethos. This includes the "no-menu dine anywhere" idea, which lets visitors pick their lunchtime, food, and location at random. (We suggest a Champagne breakfast on a floating tray in the pool and a dinner with your toes in the sand on a remote section of beach.)
7

COMO Laucala Island Resort, Fiji

The 3,500-acre COMO Laucala Island has some of the most breathtaking natural beauty in the South Pacific, including magnificent turquoise lagoons, luscious coconut orchards, spectacular volcanic mountains, and endless beaches. 25 extravagant, design-driven Fijian bures (pronounce boo-rays) with private swimming pools and amenities befitting one of the most expensive resorts in the world are scattered around this remarkable environment. This features a house submarine in addition to a multi-acre lagoon-style pool that you must see to believe. It starts with an elevated, 80-foot-long glass lap pool and ends with a gradual descent into the sands of the nearby beach. Access to the rest of the island, the spa, numerous bars and restaurants serving both local and international cuisine, a par-72 championship golf course, and a Cultural Village where visitors can learn about the customary ceremonies, rituals, and dances of the nearby island of Qamea is made easier by means of a personal house buggy.
8

Little Palm Island Resort & Spa, Florida Keys

This adults-only private island has reimagined the castaway myth directly on American soil when it debuted a new take on tropical chic in 2020. Over the course of the four-acre island, there are a total of 30 thatched-roof bungalow suites (some independent, others within bigger bungalows), several of which have four-poster beds and outdoor copper bathtubs. You won't run into other visitors as frequently as you might anticipate thanks to a clever layout and clever planting (a hard limit of 60 guests also helps). All suites offer outdoor bathrooms, furnished decks, and views of the water. Most also look out over private patches of white sand beach that are provided with hammocks, loungers, and fire pits. The Dining Room offers expansive views of the ocean, and the magnificent SpaTerre complex is highlighted by a light-filled, two-story atrium. Explore mangrove mazes on a paddleboard or kayak while eagle rays swim by. Alternatively, spend the day relaxing on a lounger by the pool or in a hammock on the beach.
9

Cayo Espanto, Belize

Three miles off the coast of Belize, this private island offers unlimited access to the clear waters, vibrant marine life, and world-class fishing that encircle the second-largest barrier reef in the world. Its seven open-air villas guarantee stunning ocean views from every vantage point, including the chaise lounges perched atop each residence's individual overwater balcony and beyond the canopy bed's billowing drapes. Spend languid days getting spa treatments at your villa, reading in the hammocks, and taking rewarding kayak trips to Ambergris Cay as your personal butler attends to your every need. Additionally, spend at least a day at sea on the house yacht, catching lunch in the neighborhood conch and lobster fishery (which the crew will barbeque for you on a private beach, no less), snorkeling among enormous schools of nurse sharks, permit fish, and angelfish in Hol Chan National Marine Park, and exploring other nearby attractions.
10

Kokomo Private island, Fiji

This private island in Fiji strikes a balance between romantic getaways and family vacations. It is situated in the uninhabited Kadavu Islands, a 45-minute seaplane ride from Nadi International Airport. The seas around Kokomo, which are bordered by the renowned Great Astrolabe Reef, are abundant with vibrant fish, manta rays, sea turtles, and blooming coral gardens, making underwater exploration a must-do activity while there (don't miss the manta snorkel expedition lead by a marine biologist). Twenty-one newly renovated beachfront villas, each with a private plunge pool, walled garden with an outdoor shower, and direct beach access, range in size from a couples-friendly one bedroom to larger two- and three bedrooms. Meanwhile, five opulent hilltop villas for larger families with private butlers and nannies welcome them with multi-bedroom dwellings. Along with three memorable meals per day produced with locally sourced vegetables from Kokomo's 5.5-acre farm and hydroponics garden and fish from a sustainable, caught-to-order island program, guests can also look forward to various water activities like sailing and kayaking.
11

Isla Palenque, Panama

With eight contemporary beachfront casitas and one six-bedroom home, all surrounded by deserted beaches and jungle vegetation, this 400-acre private island refuge off the coast of western Panama is the epitome of tropical, barefoot luxury. Each casita has a front porch swing that is perfect for Instagram, an extra-large net hammock, a totally outdoor bathroom with a tub in the sand, and it is situated on its own private stretch of sand. Every evening, half- and full-day guided activities, including as snorkeling excursions, wildlife treks, and visits to adjacent coffee plantations, are listed on the chalkboard at the island's only restaurant and bar. A continuous shoreline and defined pathways make it easy to explore this paradise on your own. There are also daily yoga and cocktail-making sessions available. The property's price is another unique feature. Prices at Isla Palenque start at $780 per couple per night in low season, which includes meals and activities, in contrast to the high cost of other private islands.
12

COMO Parrot Cay, Turks & Caicos

This 1000-acre private island stands out among the stunning resorts in Turks & Caicos as a tropical retreat that is suitable for both families and the stylish elite at the same time. Accommodations are minimalist statements, frequently draped in white voile and furnished with teak wood, and range from beach mansions and multi-bedroom beachfront estates to rooms with ocean views. The COMO Beach Club's infinity pool is exclusively for adults and is surrounded by lounge chairs with umbrellas. A large family infinity pool and Play by COMO, a kids club where parents may drop off their small ones for the day, are also close by. Expect an Asian-inspired wellness concept, as with all COMO properties, with a spa that specializes in time-honored Balinese and Thai treatments, as well as the choice of a vitamin-rich, clean-eating cuisine at all eateries.
13

Petit St. Vincent, St. Vincent & Grenadines

At this unassuming Caribbean refuge, not much has changed in almost 55 years, and that's a good thing. Over the years, Petit St. Vincent (also known as PSV) has made several adjustments to its 22 open-plan bluff cottages and beachside villas, including a 2021 upgrade. But rather of making the Caribbean design approach dated or losing its classic appeal, this has merely kept it ageless. The island still employs its original flagpole communication system (hot tip: hoist a yellow flag for immediate service), is devoid of cars and distracting technology (read: no TVs or in-room internet). It is also remains free of cars. Discover the resort's dedication to conservation by helping with its coral regeneration program or using the only Caribbean Jean-Michel Cousteau diving center to discover the diverse marine life surrounding St. Vincent and the Grenadines. Alternately, you can cruise through the nearby Tobago Cays aboard the PSV's house sailing boat, Beauty, or have rum-spiked cocktails at the restaurant's beachside location.
14

Four Season Resort Seychelles At Desroches Island, Seychelles
The Indian Ocean has integrated into the African safari circuit in the same way as the plains with their abundant wildlife have, thanks to private island resorts like this one. One of the most secluded islands in Africa, Desroches Island offers guests of the Four Seasons a variety of scheduled activities to explore its nine miles of shoreline, including deep-sea fishing, tortoise feedings, and even yoga on the runway. Of course, you can also take things at your own pace and enjoy Desroches by lazing about your private pool—every free-standing villa has one—exploring the island's beaches on foot, zipping around on a bike, or unwinding at the Circle of Connection Spa. Discover a tiered lighthouse at the southwest corner of the island. It serves as both a lookout point and a restaurant and offers one of the best views of a private island sunset on the world. Consider combining your stay here with one at the similarly spectacular Four Seasons Resort Seychelles, Mahe, Seychelles, which sits on the edge of Petite Anse Bay's stunning granite rocks and powder-soft white beach.